Are you looking for an email list building in 2021? Then, this is the Top 11 Ultimate Techniques for Beginner Entrepreneurs. In this article, you will learn different techniques to build your email list.
What is Email List Building?
It refers to collecting the email addresses of people to convert them into loyal customers. Email list building helps in growing a subscriber or a company's existing customer base.
If you're into digital marketing, then building your email lists is one of the crucial steps in growing your business. As stated by Statistica, there are about 3.9 billion email users, and this number will increase by 2023.
80% of digital marketers believe that email marketing helps in customer retention. Email Marketing also helps in building relationships and engagement with your prospects.
"Email Marketing has not been remained only list building but is the way of establishing a relationship with your customers."
Why is email list building important?
You may refer to these points to understand the importance of list building:
Email Marketing helps in brand storytelling
Helps in building a personal relationship with your audience
Understanding the behavior of your audience
Understanding the likes and dislikes of your customers
Helps in up-selling and cross-selling your products
However, email marketing requires patience and hard work but it is one of the best ways in digital marketing. According to Campaign Monitor, Email Marketing reaches more users at less cost than any other channel.
Let's look at the top 10 ways to build an email list.
What is the purpose of Email List Building?
Before going further, you have to understand why you are building your email lists. This is a crucial step because clarifies about why we are collecting people's email addresses and how it can be beneficial for us in the longer run.
Ask these questions to yourself:
Do you have an e-commerce store and you want new customers?
Are you a blogger and want more visitors?
Are you a course creator and want more sales?
Do you want more students on your online teaching platform?
Techniques to build your Email List
1. Opt-in forms on Websites
Have you ever noticed opt-in forms on the homepage of some websites? Have a look at this Shopify site.
This is the best technique for homepages and landing pages. If you don't want your viewers distracted by those pop-up forms, you can enable this on your site.
These types of opt-in forms work really well in capturing the email addresses of new viewers on your website. Try to embed this form on the top of your site to get good results.
2. Pop-up forms on Websites
A pop-up form on a website is very effective you're running a SaaS business. Many SaaS businesses are already leveraging this kind of form.
Pop-up forms are usually dynamic in nature and take up few seconds to be visible. Therefore, you can customize your form according to your viewers' dwell time.
Thrive Leads are very popular as pop-up forms. If you are a blogger and want to build your email list, then the combination of Thrive Leads + Convertkit would be perfect for you.
Your copywriting skills also matter in these kinds of forms. As you can see in the above image of Fab.com, they are giving value by saying "Enjoy 10% off on your first order". This is basically a call to action + reason you are giving your prospects to sign up.
Most visitors love fun wording in your copy and are more likely to convert than using a boring tagline.
Another, most important factor is the color of your pop-up form. The more you use funky and bright colors, the more are the chances of the sign-ups.
3. SideBar Sign-ups
You often might have seen this type of sidebar on some web pages.
I also use this sidebar on my blog post pages. The reason because these kinds of sidebar increase signup rates by 20%.
And if you are offering something like I use to provide free business planning template, then the conversion rate increases more.
I use to get up to 20% more signups than I use to before. And it really helped me in building my email list.
4. Lead Magnet Forms
A lead magnet is a freebie offer that you give to your prospects in exchange for their email addresses. You often have seen Lead Magnet forms asking you to get free ebooks or checklists.
Lead Magnets are a very powerful tool for getting people's email addresses. These are very effective for e-commerce stores as 97% of customers leave the website at first sight. But if you are providing a free lead magnet to them, the chances of leaving your website decreased by 30%.
Lead Magnet can be anything like:
Ebooks
PDFs
Checklists
Stock Images
Quizzes
Templates
If you feel that you don't have time to create a lead magnet for yourself, then just buy a "Ready-to-customize" template for yourself.
Here's the best example of a lead magnet pop-up form: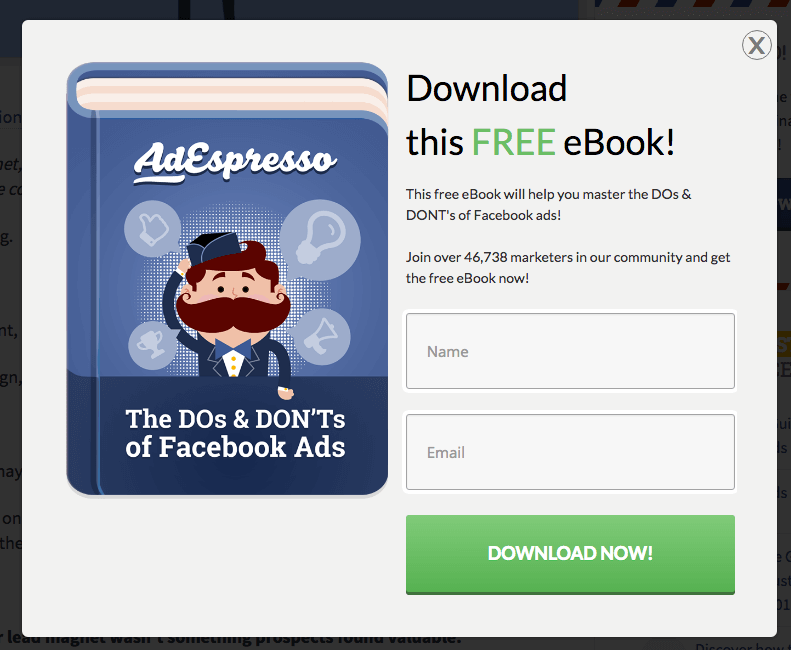 Pro Tip: The lead magnet should be relevant to your niche. For e.g., if you are a blogger, you can provide tips and tricks related to your field only.
5. Use Social Media to Build Email Lists
Social media platforms are a wonderful technique for building email lists. You can capture people's email addresses via the Facebook page, Instagram page, LinkedIn or even YouTube.
Facebook: You can use your Facebook profile or page for email list building. Make a Facebook post telling people that you are starting a newsletter service in which you'll send valuable weekly newsletters.
Those who are interested will definitely sign up for your email newsletter and viola, you will start to build your first email list.
Instagram: Use Instagram bio to collect email addresses. Just like Facebook, you can create posts telling people that you are offering something useful. In this way, you will quickly build your email list.
LinkedIn: LinkedIn is not only making connections but you can wisely use it for collecting people's email addresses.
YouTube: YouTube can also be used as collecting email addresses. You can simply ask people to give their email addresses by giving the link in the description.
The beauty of social media is you can easily find your targeted audience who are likely to convert.
6. Use Facebook Groups
Joining a targeted niche Facebook group is a smarter decision for email list building.
As you know that there are thousands of Facebook groups already available, but you don't have to join every group. Just see which groups are related to your field. For example, if you are a fitness trainer then join only those groups that talk about fitness.
After joining a group, make sure to add value there. For example, don't try to sell your products and don't talk about yourself every time. Otherwise, you would get kicked out of the group.
Remember, first add value to people's lives and then only ask for something. If you are calling people for your webinar, first try to teach people what you're passionate about. Later, sell your products.
7. Conduct a Webinar
Webinars are an amazing way to build your email list. But don't directly ask people to sign-up, there are proper criteria you should follow always.
Whenever you are conducting a webinar, tell people about what you will teach in that webinar. In addition, tell them about the benefits of joining your webinar.
For example, if you want to sell your online course, then first build your authority, let people trust you, add more values, and then ask to sign-up in your webinar.
There are so many platforms where you can conduct a webinar for free like,
Zoom, Google Meet, GoToWebinar, Adobe Connect, Click Meeting, and Livestorm.
8. Giveaways
Giveaways are another great method for collecting email addresses. It can be anything physical or digital product.
In most cases, people prefer digital products as giveaways but you can also give physical one if you have an e-commerce store.
There are so many ways for giveaways like you can conduct a quiz or contest and as a gift prize, you can deliver something good. You can simply ask people to sign-up for the contest and you're good to go.
9. Use Surveys
Surveys are the most effective ways to build an email list because when you do surveys you are allowing people to give their opinions for exchange with their emails.
Surveys are far better than taking feedbacks from your visitors. You can find some tips to get a good survey response-
Ask the easy questions from the people. Please don't confuse them by asking irrelevant questions.
Do not make it boring, use good colors contrasting with your website.
Below is the example of SurveyMonkey, showing the type of questions they're asking.
You can take inspiration from the above survey and can make your own survey form.
10. Use Videos in Opt-ins
When you use videos in your opt-in forms, it becomes a lot easier to build trust in people. As you know, the consumption of videos has increased by 120% ( according to the Wistia report).
So, why not leverage it to build our email list?
Try to make a clear video of yourself not asking people to just sign up but first telling what they are getting by signing up on your website.
Look, people want a reason to do something, and if you're just asking them to sign-up, nobody would likely to convert.
Therefore, give them a reason like you can give a free eBook, or checklist, or an audiobook anything.
If you're wondering how to make a video signup form, then refer to this article.
11. Gamification
It's a new way of building email lists and is very interesting also. We love playing games and other stuff, based on this only "Gamification" email list building works.
People often use spinning wheel games, contests, and giveaways. They provide discount codes & offers when you enter your email address and I think this is a cool way to attract new customers as well as new subscribers.
Contests and Games create enthusiasm in people and curiosity to know what they are getting in discounts.
People also don't mind giving their email addresses if they're getting discounts in exchange.
You can try Privy free for 15 days. It's an amazing tool for creating Spinning Wheel email opt-ins.
Recommended Article: How To Start An Online Business In India? [Step-By-Step Guide]
What should you avoid in building an Email List?
1. Never Buy Email List
You should never trust people who are selling email lists because these people will give you a long spammy email list that has no value at all.
Instead, just rely on your hard work and apply the techniques which I've mentioned above.
You might have heard that it is better to have a small quality list of emails rather than having a long list long spammy list.
2. Don't just collect emails
Email list building means not only collect email addresses but you have to build a list that has the potential to convert. It is all about building trust between you and your customer.
So, always try to give more value to your email subscribers, don't just collect emails and forget about them.
3. Don't forget your subscribers
People often make the mistake that once they collect email addresses, they just forget about it. This is one of the biggest mistake in email marketing.
If you are building your email list for the first time, then please connect with your subscribers regularly.
Send them valuable newsletters every single week (if possible). This helps in building a healthy relationship and your visitor would not forget you.
4. Avoid Spamming in Building Email List
Do you get frustrated when you get spammy brand emails asking you to buy this and that? It usually happens with everyone, so avoid spamming as much as you can.
Practice sending only once or twice a week not more than this. Marketers find that sending a valuable newsletter once a week is more than enough.
5. Don't ignore email analytics
Email Analytics is a crucial thing that you should not ignore. Analytics basically helps in understanding whether your subscribers like your emails or not.
It also helps in finding how many people are unsubscribing your newsletter.
If you ignore these analytics, you wouldn't understand what is going on, so keep an eye on that as well.
Email List Building Tools
1. Thrive Leads
Thrive Leads offers you beautifully designed email opt-ins. Even I personally use it on my website and it has given me over 280 subscribers in a month.
If you use Thrive Leads along with Convertkit, then you'll be amazed to see the results you get. Just try it.
2. Optin Monster
Optin Monster is another very popular email list-building tool. I like its design a lot as it offers floating footer bars, slide-in sidebars, and full-page covers.
Also, Optin Monster provides you a price as low as $9/month, which is a great price as an email marketing tool.
Conclusion
A good Email List Building cannot be achieved in one day. Yes, it takes experience and knowledge but you'll achieve all these things once you start doing things.
Follow the above-mentioned techniques to get better results.
Also Read: