Influencer Marketing is becoming one of the biggest marketing strategies for small businesses. Therefore, more people want to become social media stars. But, how to become a social media influencer?
In this article, we'll discuss some latest strategies that are applied and tested to become a famous social media influencer. Even I have also applied these techniques to become a social media influencer.
Influencer Marketing is becoming popular because people use to stay engaged with other people.
Now, small businesses don't need to establish their social media base from scratch. They can just collaborate with these influencers. That's the reason why it has become an over $5 billion industry!
As of now, social media users have increased from 2.8 billion (in 2017) to 3.78 billion (in 2021). It is also estimated that by 2025, this number will increase up to 24 billion.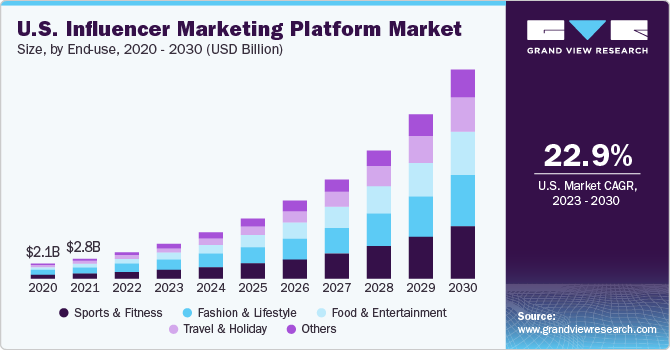 Previously, it was only the big celebrities who were getting traction, but today, anyone can become a social media influencer, they just have to follow the right strategy.
Who is a Social Media Influencer?
We often get this question in our minds that who is exactly a social media influencer.
A Social Media Influencer can be a person who has established a credibility and trust between people in a specific industry. They are known as "Influencers" because they influence people's choices and inspire to do something in their life.
How many followers do we need to become a Social Media Influencer?
The answer is minimum of 1000 followers and maximum is infinity. Yes, you can become a social media influencer with just 1000 followers.
Anyone who is putting valuable content regularly and adding values in people's lives is called a "Social Media Influencer".
According to UK's Advertising Standards Authority (ASA), anyone who has 30,000 followers on any one of their social media accounts (Facebook, Instagram and Twitter) can be callled a 'social media influencer'.
Types of Social Media Influencers
Not all the social media influencers are same. They have different categories depending on the number of followers they have.
You can consider the below chart to understand the differences.
Nano-Influencers
These are very small influencers who have just started their journey. They have a small number of followers (between 0 to 5k) and small reach.
The advantage of Nano-influencers is they have very low number of audience but has very engaged community. As they have low audience, it would be easier for them to answer every comment and direct message.
Nano influencer is the first step towards covering the big influencer journey.
Micro-influencer
Micro-Influencers have a little larger audience as compared to nano-influencers. They can have an audience between 5k to 100k.
This is the stage when you start getting sponsorships and can earn a decent amount of revenue.
Mid-tier Influencer
Mid-tier influencers are having followers between 100k to 500k. They usually collaborate with big brands and they have to create high-quality content.
Macro Influencers
These are just like celebrities with followers more than 500k. However, they have a very strong network of audience which is obtained by putting quality content for years.
They charge a way higher price than micro and macro influencers.
Celebrities
These include huge movie stars, sportsmen or people who everyone already knows.
So, in order to become a social media influencer you have to follow the right steps which you'll learn in this article.
Let's discuss the right strategies and practical tips that you should follow-
How do Influencers Make Money?
There are multiple ways to make money by becoming a social media influencer but the most common way is "Brand Collaboration".
Influencers basically earn money by collaborating with small and big brands but this doesn't mean that you cannot earn by other ways.
You can build your multiple sources of income on social media like:
Provide Coaching Services
Consultation
Start a business
Sell Online Courses
Affiliate Marketing
So, these are some common ways through which people are earning but don't limit yourself only on these sources, you can do a lot more.
1. Select a Niche
Selecting a niche is the first crucial step towards starting anything new. A niche is a specific field that interests you more and in which you can make your quality content.
This step is most important because without a niche you are just wasting time on social media. By selecting a niche, you are standing out from the crowd and it also becomes easier to build your audience.
But how to select a niche?
For selecting a niche, you may ask these questions to yourself-
1. What is the thing I'm good at?
2. What are my interests?
3. What I'm passionate about?
4. What are the things that fascinate me?
5. What I love enjoy doing?
Once you answer these questions to yourself, you'll be able to find your niche. Make sure to choose a niche that reflects your personality, don't get distracted by what others are doing.
Work upon only your field and master it. If you truly do what you love doing, you will automatically attract people.
It doesn't matter what niche you choose, what is more important is your passion for it.
Social media doesn't require more influencers who are just copies of each other but it requires people who can create an impact in this world.
2. Choose the Right Platform
There are many platforms you can choose to start your journey. But the challenge is choosing the right platform.
Relax! I'll tell you how to choose the right platform.
Let's see how many platforms are there-
YouTube,
Instagram,
Facebook,
Twitter,
LinkedIn,
Pinterest,
Google+,
Snapchat.
These are some popular social media channels.
As we know that there are multiple platforms on which you can stay active but make only one social media as your primary channel. In this way, your efforts will not get distributed into multiple channels and you'll be productive.
YouTube
YouTube is the most preferred social media channel to become an influencer, as you can create videos and also earn. If you love making videos on social media, you can become a video influencer. It is also the second-largest search engine after Google, so there is a high chance of being successful here.
YouTube has a good thing that you can directly monetize your channel once you pass the basic eligibility criteria. So, the process is a lot easier to earn than any other social media channel.
There are many YouTubers who are making millions of dollars by creating videos.
Instagram
Instagram is known for sharing pictures, infographics, and now 15-30 seconds videos. There are about 150 million active users.
Also, there are so many Instagram Influencers who are making thousands of dollars through brand collaboration.
Even I have recently earned $500 in just a couple of months from Instagram. So, it's not like what you're doing, it's about how you're doing.
Marketing is not about what you are doing, it is about how you are doing things.
Recommended Read: How To Use Instagram For Business In 2021: 10 Steps Practical Guide
Facebook
Facebook is the oldest and has the most active users of around 1 billion. As it has the most active users, therefore the chances of becoming a social media influencer is also higher here.
Facebook is also becoming popular for video creators as now you can earn from ads likewise YouTube.
Twitter
Twitter is known as a "micro-blogging platform" that limits each post to 140 characters only. But it is good for those who are interested in creating a written form of content instead of visual.
There are about 560 million active users here making it the second most active user platform after Facebook.
LinkedIn
LinkedIn is more of a professional platform, so if you're interested in creating content realted to business, jobs and education then it would be perfect for you.
IT is good for both videos and text content. As I've seen people like Vaibhav Sisinty, who is a LinkedIn star shares lots of videos and texts, and people also use to respond to his every post.
So, in my opinion, it would be great for creating content for professionals.
Choosing platforms also depends on some factors like:
Which audience do you want to target?
Which age group do you want as your viewers?
What kind of content you will create?
How much engagement you want on your social media?
So, these are some questions that are also must be answered to become a social media influencer.
Pinterest
Pinterest Influencers are more of bloggers but it has an amazing reach. If you are a blogger and want to increase your website reach, then Pinterest would be the best.
3. Find your Targeted Audience
Before starting anything, you have to define your audience you are going to serve. Without proper segmentation, it would be very difficult to grow your social media account.
There are lots and lots of people who are doing different things on social media. So, if you want to create your own version of yourself, make yourself stand out from the crowd.
For instance, let's say, you want to become a business influencer then you must understand that your audience should also interested in businesses.
You have to create content related to businesses so that people who are interested in businesses would follow you.
You can understand how to decide your targeted audience with the steps below:
1. Demographics
By the means of demographic, you have to create content around that demographic only. For instance, if you are living in the USA, you have to create content according to the trends of that place only.
Create content that aligns the needs of people living there. So, in this way, you'll successfully target your audience.
Ask yourself:
1. Where is my audience living?
2. What are their pain points?
3. What is the age and gender of my audience?
2. Problems
Without solving any problems of your audience, you are not going to end being a social media influencer. So, try to add values and solve problems of your audience.
By solving problems, I don't mean that you start paying bills for your audience (it is not possible). It means that if you're a lifestyle blogger create content that people are looking for. This strategy works in every field.
Ask yourself:
1. What problems is my audience facing?
2. How can be my content helpful for them?
3. How can I motivate them regularly?
4. Create a Content Schedule
Creating a content schedule is a smarter decision as I know most influencers don't follow a schedule. You can also skip this step if you feel you can create content regularly. But by creating and following a proper schedule, your work would not become hectic for you.
It keeps you in a proper balance so that even somedays if you don't feel you want to make content, you will not run out of it.
To become a successful social media influencer, you have to be consistent and persistent. It takes a lot of time and effort to build an empire.
All you can do is never stop creating valuable content. By the time, you'll also understand that how the Instagram algorithm works. So, you'll start creating more content that the algorithm loves.
But how to create a Social Media Content Schedule?
For this, you can use CoSchedule.
CoSchedule is an all-in-one platform for planning and organizing all your content marketing. Its super easy use drag-and-drop calendar interface makes it easy to collaborate and schedule all your projects in one place.
Or, if you don't want to use CoSchedule, you can create your calendar manually.
You can follow the steps given below in order to create a content schedule:
Step 1. Plan your content idea on what topic you want to talk about.
Step 2. Take a pen and paper, sit down and write everything you want to talk about in your video, text, or infographic.
Step 3. Write down every idea you are getting in your mind.
Step 4. Frame your ideas on the basis of topics, categories, and types of content (audio, video, text or images).
Step 5. Choose a particular time of day you want to post your content.
Step 6. Decide your frequency of posting the content, how often you want to post.
Step 7. Finally, when you are done, schedule your posts.
5. Best Time to Post
It is actually a myth that you need a particular time to post. You can post at any time at which you see the most engagement.
There is a study done by Sprout Social in which they showed that there are certain days and times when you get the maximum engagement. For Instagram, you can see highest engagement in the afternoon and evening.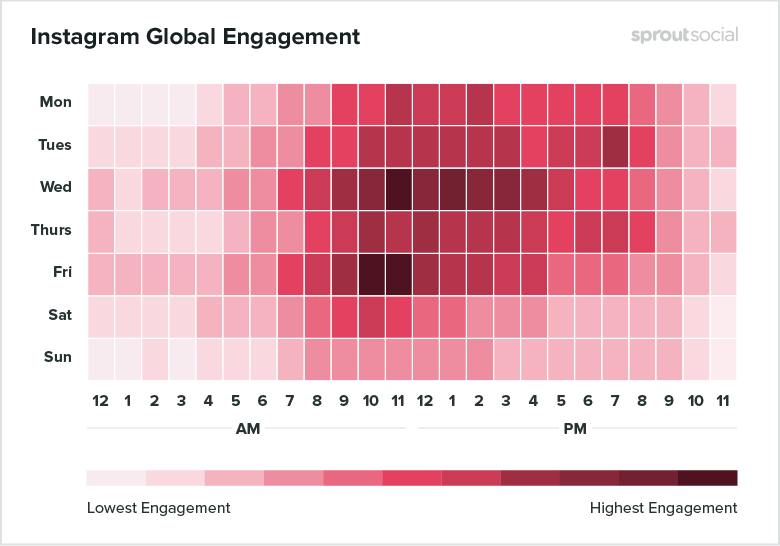 The graph shows that on Wednesday and Friday during 10-11am there is highest engagement. Here are the best times to post on social media in 2021.
6. Post Regularly and Consistently
The secret of getting maximum and fast growth is to put content regularly and consistently. It doesn't matter you're on Instagram, Facebook, or Twitter you should develop a habit of posting content daily.
You should decide your post frequency but be sure to put regularly (at least in your initial days).
I've been a social media influencer on Instagram for more than one year now and I've observed that accounts who posts daily get higher engaged audience as who are not.
So, prepare your content schedule according to your convenience.
7. Market your Brand
It doesn't matter how much valuable content you're putting, you're just wasting your time if nobody knows you.
Marketing is the secret formula that most people miss most of the time. Whether you are a company or a brand or a social media influencer, it is always advised to market yourself.
Marketing helps in getting traffic on your social media platform, without any following and traffic you cannot become a social media influencer. You can also build your email list to gain some raffic.
There are so many ways to generate traffic and getting traction but the main thing is to follow and make a proper strategy. You have to make proper criteria to get traffic.
Below has given some tips to market yourself on social media:
Create content that shows emotions like happiness, sadness, surprise, or excitement.
Make content that is easily sharable.
Tag your posts to other popular creators.
Comment on others' social media profiles.
Post only when your audience is most active.
Always interact with your audience.
Reply to every comment and direct message.
Do live sessions on Facebook and Instagram.
Ask your audience to like and comment on your posts.
Use compelling Call to Actions.
Add valuable and relevant infographics, videos, texts, or Instagram Reels.
8. Collaborate with other Social Media Influencers
Collaboration with other social media influencers can be very beneficial for you, especially if you are just starting out.
With collaboration, you are showing your brand face with the other influencer's followers also. In this way, they will come to know about you and if they like they'll also follow you.
Social media influencers have a huge reach so there are higher chances of getting more engaged followers on your profile.
For instance, take an example of Instagram, whenever two people organize a live session with each other, there followers also get swapped with other.
This is a impressive way of growing your account because there is a win-win situation for both parties.
There are two ways to promote yourself- one is to pay the big influencers to promote you and another is to collaborate with influencers who are relatively the same number of followers as you.
In my opinion, the second option would be more effective because there would be a higher chance of people following you back.
You can feature other influencers on your social media so that they'll also share it on their profile as well. You can invite them on your live session for interviews, to share tips and tricks, etc.
This strategy works for most people.
9. Enagage with your audience
What do you feel when you praise someone and he/she don't respond you? You don't feel good, isn't it. The same goes on social media.
Whenever someone gives you a appraisal or a good comment, always try to respond. It is a very important to become a good social media influencer whom everybody loves.
It's true that "content is the king" but without engaging with your audience it may not help you in the longer run.
All social media platform's algorithm works in a way that people spend most of the time. If you constantly engage with your audience, the algorithm understands that you are engaging with your audience and it will promote you more.
Also, if you properly engage, you can increase your likes and comments ratio. So, this helps in brand collaboration when you get higher engagement, brands will also like to collaborate with you.
10. Let other Brands Reach Out to You
If you want to become a social media influencer then probably you also want to earn. Nobody wants to do hard work in exchange for nothing.
So, make your profile easier for a brand to reach out to you. For instance, if you are using YouTube you can mention your email address in the about section and ask people to email if they have any query.
On Instagram and Facebook, you can give a clear call to action in bio. For example, "Email me for Brand Collaboration". This line is pretty common between Instagrammers.
Conclusion
To become a popular social media influencer or creator, it takes time and effort. You cannot imagine your success in one day, but yes it is good to take one steps everyday towards your goals.
Quick Recap:
Select a Niche
Choose the Right Platform
Find your Targeted Audience
Create a Content Schedule
Best Time To Post
Post Regularly
Market your Brand
Collaborate with other Influencers
Engage with your Audience
Let other brands reach out to you.
Hope, this article would be helpful in understanding how to become a social media influencer.
Also Read: